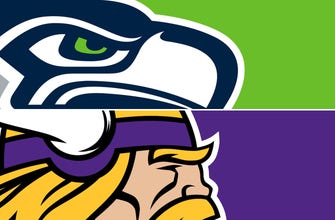 The Minnesota Vikings claimed victory No. 1 of the 2020 season last Sunday. Can they make it back-to-back victories?
Minnesota certainly has a tough task this Sunday night, having to face 4-0 Seattle and early MVP candidate quarterback Russell Wilson.
The Seahawks enter Week 5 averaging 35.5 points per game, which is second in the NFL. It's no coincidence then that this week's predictors think Sunday's game will be a high-scoring affair.
But does anything think the Vikings can actually pull out a 'W' on the road against an unbeaten Seahawks team?
Spoiler alert: Believe it or not, yes.
Certainly that makes reading on more appetizing, right? However, we'll also add this: It being October and the time of Halloween it might be appropriate to also say read on at your own peril.
Here's this week's Vikings predictions from around the web:
Barry Wilner of the Associated Press: Seahawks 30, Vikings 24.
Sam Farmer of the Los Angeles Times: Seahawks 33, Vikings 27. "Minnesota is getting better. Justin Jefferson is playing that Stefon Diggs role, and Dalvin Cook is rolling. Seattle's defense gives up a lot of ground, but this comes down to Russell Wilson taking control."
Pete Prisco of CBSSports.com: Seahawks 31, Vikings 27. "The Vikings salvaged their season for the time being by beating the Texans on the road. This Seattle offense is much better than that one and Russell Wilson will have big day against the Minnesota defense. But Kirk Cousins and Dalvin Cook will keep up against a bad Seattle defense. It will be tight."
NFL.com's Gregg Rosenthal: Seahawks 35, Vikings 31. "Russell Wilson is not the only mad bomber in this game. No quarterback has thrown deep more often this season than Kirk Cousins, according to PFF, with increasingly productive results. Rookie WR Justin Jefferson has played so well the last two weeks that I'm afraid to say more about it, and the Vikings have another plus matchup against a Seahawks secondary missing Jamal Adams again. There's little reason to believe the Vikings have fixed their defensive problems enough to slow down the Seahawks, but Minnesota should make this game fun with no one running better than Dalvin Cook. All your fantasy options into the pool!"
Will Brinson of CBSSports.com: Seahawks 35, Vikings 24. "After the last time these two teams played in Seattle in prime time with Kirk Cousins as a dog, I swore to myself I would never pick the Vikings in this spot again. So I'm not going to do that. Minnesota won't open up the offense and Seattle will throw bombs."
John Breech of CBSSports.com: Seahawks 30, Vikings 27.
Vinnie Iyer of the Sporting News: Seahawks 41, Vikings 34. "The Vikings will be coming out firing with Kirk Cousins to Adam Thielen and Justin Jefferson, but also know Dalvin Cook's running is a key source of chunk plays and will do their best to score touchdowns while also controlling time of possession to protect their defense. Unfortunately, the Seahawks will have the same game plan with Chris Carson to complement Russell Wilson to Tyler Lockett and DK Metcalf. These teams played a high-scoring thriller in Seattle last December and this game will mirror that with a fantasy bonanza in prime time."
Bill Bender of the Sporting News: Seahawks 36, Vikings 24. "The Seahawks continue to roll with MVP-candidate Russell Wilson. Minnesota can make it interesting if Kirk Cousins continues to work effectively with Justin Jefferson and Adam Thielen, but it won't matter on the road. Seattle is 4-0 against the spread this season."
Jonathan Jones of CBSSports.com: Seahawks.
Jordan Dajani of CBSSports.com: Seahawks 27, Vikings 24.
The Miami Herald's Greg Cote: Seahawks 31, Vikings 27. "Should be a fireworky Sunday nighter, bombs bursting in air. Russell Wilson will be cooking all night on Minny's porous pass defense, and likewise Kirk Cousins should enjoy a Seattle pass D that has been as bad or worse. If Dalvin Cook stays hot, Purples stay close and make it a worthy of prime time affair."
Berry Tramel of The Oklahoman: Seahawks 29, Vikings 24.
Philly Voice's Jimmy Kempski: Seahawks.
Pro Football Talk's Michael David Smith and Mike Florio: MDS – Seahawks 38, Vikings 28; Florio – Seahawks 34, Vikings 31.
Josh Schrock of NBC Sports Bay Area: Seahawks 31, Vikings 28. "Russell Wilson is cooking and the Seahawks are firing on all cylinders. He'll get his against a below-average Vikings defense, but Kirk Cousins, Dalvin Cook and Adam Thielen do enough to keep it close and make the Seahawks sweat."
Four of five analysts at SI.com are picking the Seahawks, with Andrew Brandt the lone dissenter.
All three writers at Athlon Sports pick the Seahawks to win.
None of the 10 SB Nation writers predict a Vikings victory. Welp.
Sensing a trend: All seven PennLive.com writers pick the Seahawks.
All seven USA Today writers pick the Seahawks to win.