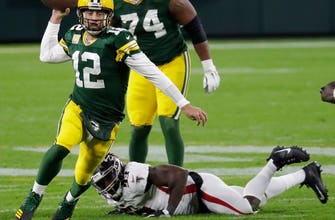 When the Green Bay Packers play a bad NFL team, it is basically like a woodchipper against a wool sweater.
And the Packers are doing the shredding.
Green Bay improved to 4-0 with a 30-16 win over the Atlanta Falcons on Monday Night Football. Aaron Rodgers' early touchdown pass to a wide open Aaron Jones set the tone for an uncompetitive contest against teams going in opposite directions.
Three touchdown passes later, the Packers strolled off the field after their third blowout win of the season. Rodgers lit up the scoreboard with 327 passing yards and four touchdowns while the defense limited a talented Atlanta offense to 16 points (three in the first half) and just 327 total yards. The Packers, on the other hand, finished with 403 total yards.
And it all happened in a game without wide receivers Davante Adams and Allen Lazard. Who knew? It did not even matter and some of that is because of Atlanta's sorry defense but most of it is because Rodgers played flawlessly and is now entrenched in the MVP conversation.
Here is a recap of Monday's game (STORY | PHOTOS):
PLAYER OF THE GAME
Another week, another stellar performance by Rodgers.
He was missing his two top receivers but still dominated, spreading the ball around to his receivers, running backs and tight end Robert Tonyan. Tonyan was obviously incredible, but Jamaal Williams finished with eight catches for 95 yards, Jones had five grabs for 40 yards and a score and Marquez Valdes-Scantling had four catches for 45 yards.
After the win over Atlanta, Rodgers has 1,214 passing yards, 13 touchdown passes and is completing 70.5% of his throws on the season.
He was great all night and showed off his pinpoint accuracy and arm strength with this touchdown pass to Tonyan.
That's ✌️ TDs for @RobTonJr!#ATLvsGB | #GoPackGo

📺 ESPN
📱 https://t.co/2UxGSiVlvn pic.twitter.com/5BXAHIpeFG

— Green Bay Packers (@packers) October 6, 2020
DON'T FORGET ABOUT ME
Who could forget about Robert Tonyan after that game! The Indiana State product had a monster night against the Falcons with six catches for 98 yards and three touchdowns.
He clearly has a strong connection with Rodgers and now has five touchdown catches this season, which is tied with Mike Evans for first in the NFL.
His most impressive score of the year might have been this one where he got tripped up by a defender before recovering with a somersault to catch the pass.
Have a night, @RobTonJr!

That's TD No. 3️⃣!#ATLvsGB | #GoPackGo

📺 ESPN
📱 https://t.co/2UxGSiVlvn pic.twitter.com/OR5BbxAWYw

— Green Bay Packers (@packers) October 6, 2020
THAT MOMENT
It is tough to find one in a blowout game like this. That said, it is hard to truly kill NFL teams but the Packers found a way to twist the knife in the Falcons' feathered chests. Rodgers delivered the knockout blow with his second touchdown pass to Tonyan that gave Green Bay a 20-3 lead with 46 seconds in the first half.
THIS NUMBER
327 – That is the number of yards Rodgers threw for against Atlanta AND the number of total yards the Falcons gained on Monday. Is it a complete coincidence that they matched up? Yes, it certainly is, but it illustrates how Green Bay's defense smothered Atlanta and how well Rodgers played.
THEY SAID IT
"I think it was more embarrassment than injury. My ankle or knee or something hyperextended, but I'm alright." – Rodgers on his fourth-quarter sack.
"Just keep playing well and stick to the game plan. When plays come to me, I need to make them. Aaron had a nice little look in his eye tonight, so I was just trying to roll with that." – Tonyan on his connection with Rodgers.
"It doesn't take anything other than he wants to be the best. He usually is the best every Sunday when we're out there. We're fortunate to have him as our leader. He's the one driving the ship out there." – Packers head coach Matt LaFleur on Rodgers.
"When I'm at home on the couch just sitting, just thinking about making plays, just playing the games over and over in my head. I think the game has slowed down for me, and it's coming to me a lot easier." – Tonyan on contributing to the offense.
WHAT'S NEXT
The Packers will have their bye in Week 5. It comes at a pretty good time for Green Bay since it gives more time for Adams to heal and obviously more time for the rest of the roster to rest. With more time on their hands, a big challenge for Green Bay's players during the time off is to avoid getting COVID-19, which could theoretically be the thorn in the side of an excellent season. After the bye, the Packers will travel to Florida to play Tom Brady and the 3-1 Tampa Bay Buccaneers in Week 6.