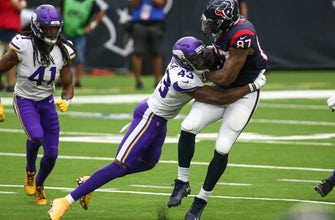 The Minnesota Vikings defeated the Houston Texans 31-23 on Sunday and staved off an 0-4 start that would have put the Vikings in a deep hole to open the season.
Vikings quarterback Kirk Cousins had a good game by completing 16 of 22 passes for 260 yards and one touchdown. Adam Thielen caught eight of those throws for 114 yards and a touchdown and Justin Jefferson added to his great rookie season with four receptions for 103 yards.
Dalvin Cook had a remarkable game on the ground with 27 rushes for 130 yards and two touchdowns. He also had two catches for 16 yards.
The win did not come easy, though. Minnesota safety Harrison Smith was penalized and ejected for an illegal hit on Texans' tight end Jordan Akins, which forced safety George Iloka, who was elevated from the practice squad for this game, to fill in.
Iloka, who was also on the Vikings in 2018, went on to play the rest of the game and finished with 66% of defensive snaps, including a tackle four yards behind the line of scrimmage to Houston running back David Johnson on a third-and-goal play near the end of the game. Smith ended playing just 25 snaps (38%) and free safety Anthony Harris played all 65 snaps of the game.
Other notes from Sunday's snap counts:
— Minnesota's younger cornerbacks got significant action in the victory. First-round pick Jeff Gladney played all 65 of the Vikings' defensive snaps and finished the game with five tackles and one pass defensed. Fellow rookie cornerback Cam Dantzler got a good amount of time against Houston after missing the last two games, playing 97% of the snaps with three tackles. Holton Hill filled in at 78% with three tackles and one pass defensed.
— Linebackers Eric Kendricks and Eric Wilson also played 100% of the Vikings' defensive snaps, along with Harris and Gladney.
— Cousins and the entire starting offensive line of Riley Reiff, Dakota Dozier, Garrett Bradbury, Dru Samia and Brian O'Neill played all 66 of Minnesota's offensive plays.
— Thielen was a part of 88% of the offensive snaps, followed by Jefferson at 77%. Receivers Chad Beebe and Olabisi Johnson played 24% and 17% of snaps, respectively.
— Despite finishing with a combined three targets for two catches and 27 yards receiving, the Vikings' tight ends got a lot of playing time. Kyle Rudolph, who caught both of those passes, was on the field for 73% of snaps, Irv Smith Jr. played 62% of snaps and Tyler Conklin recorded eight plays (12%).
WEEK 4 – AT HOUSTON (OFFENSE)
| | | |
| --- | --- | --- |
| PLAYER | Plays (66) | % |
| Cousins | 66 | 100 |
| Reiff | 66 | 100 |
| Dozier | 66 | 100 |
| Bradbury | 66 | 100 |
| Samia | 66 | 100 |
| O'Neill | 66 | 100 |
| Thielen | 58 | 88 |
| Jefferson | 51 | 77 |
| Cook | 49 | 74 |
| Rudolph | 48 | 73 |
| Smith | 41 | 62 |
| Ham | 32 | 48 |
| Beebe | 16 | 24 |
| Mattison | 15 | 23 |
| Johnson | 11 | 17 |
| Conklin | 8 | 12 |
| Hill | 1 | 2 |
WEEK 4 – AT HOUSTON (OFFENSE)
| | | |
| --- | --- | --- |
| PLAYER | Plays (65) | % |
| Harris | 65 | 100 |
| Kendricks | 65 | 100 |
| Wilson | 65 | 100 |
| Gladney | 65 | 100 |
| Dantzler | 63 | 97 |
| Ngakoue | 54 | 83 |
| Hill | 51 | 78 |
| Odenigbo | 44 | 68 |
| Holmes | 43 | 66 |
| Iloka | 43 | 66 |
| Stephen | 37 | 57 |
| Johnson | 33 | 51 |
| Smith | 25 | 38 |
| Watts | 20 | 31 |
| Wonnum | 18 | 28 |
| Nickerson | 9 | 14 |
| Davis | 8 | 12 |
| Mata'afa | 6 | 9 |